We want you!
As a StartUp, we work on many exciting projects and in various fields of activity. You can become part of a unique development story and start your career within our international team. Get an insight into the structures of a young company as well as into our product and brand development. Surpass yourself and contribute your strengths.
You already have professional experience? Then you are right here.
Jobs for University Students
Are you studying and looking for a new challenge? Whether it's about a part-time job or a thesis, you are right here.
Opportunities for School Students
Are you still in school and can't wait to start your career? Then you are right here.
Co-operative education program Logistics Management
Co-operative education program Business Administration
Are you passionate about your field and want to start a career in our team? Send us an spontaneous application and we will get back to you as soon as possible.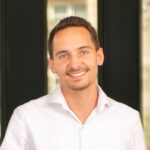 Wer StartUp Atmosphäre möchte muss dafür nicht ins Silicon Valley ziehen.
Christoph Dreesbach
Als Studentische Hilfskraft sammel ich neben meinem Studium praktische Erfahrung. Das Vertrauen auch in großen Projekten mitarbeiten zu dürfen ist sehr wertvoll.
Lena Stetter