Warehouse revolution through intelligent automation
Making warehouse automation simple and efficient. With this goal in mind, we are developing a warehouse that can be used in many sectors. It is based on a simple modular principle consisting of three components. This allows the warehouse to be individually scaled and adapted to your needs.
Automatisiertes Behälterlager
Lagerautomatisierung einfach und effizient gestalten – mit diesem Ziel entwickeln wir ein Behälterlager, das in vielen Branchen einsetzbar ist. Basierend auf einem einfachen Steckbaukasten aus Zelle, Roboter und Box kann das Lager flexibel skaliert und auf Ihre Bedürfnisse angepasst werden.
Entry Level Size Nano Fulfillment
The modular principle enables warehouses with few cells. Any size can be achieved by scaling the components. The travel paths can be designed individually whereby curves are automatically detected by the robots.
Reaching goals
Conveyor Lines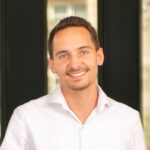 Bei kaum einem Lager ist der Einstieg so einfach.
Christoph Dreesbach
Mit unserer Systemlösung reagieren Sie auf aktuelle Lagerbedingungen. Die Prozesse in der Intralogistik werden immer komplexer und qualifiziertes Lagerpersonal fehlt. Steuern Sie ihre Lagerhaltung mit einem einzigen intelligenten System und nutzen Sie die entstehenden Vorteile in ihren Prozessen.
Call us directly or write to us using our form.
Contact Form